Manicures and pedicures are a great way to pamper yourself and keep your nails looking their best. However, choosing the right nail color or design can be overwhelming with the endless options available. Fortunately, there are several smartphone apps available to help you make the perfect choice.
One popular app is NailSnaps, which allows you to create your own custom nail designs by uploading a photo or selecting from their pre-designed templates. The app then prints out the design as nail wraps that you can apply at home or take to your nail technician.
Another great app is OPI Nail Studio, which features a virtual nail try-on experience. You can take a photo of your hand and select from a range of OPI nail colors to see how they would look on your nails. This app also includes tutorials and inspiration for various nail designs.
For those who prefer a more natural look, the app Essie Gel Couture Virtual Try-On allows you to try on different shades of Essie's Gel Couture line. You can adjust the skin tone of the hand model to better match your own, making it easier to see how the colors would look on your nails.
If you're looking for inspiration for your next manicure or pedicure, the app Nail Art Gallery has a large collection of nail designs from professional nail artists and enthusiasts. You can browse through different categories such as seasonal, floral, or geometric to find a design that suits your style.
Finally, if you want to keep track of your nail care routine and appointments, the app Nail Diary allows you to log your manicure and pedicure appointments and set reminders for when it's time to schedule your next one.
In conclusion, with these smartphone apps, choosing the perfect manicure and pedicure has never been easier. From creating your own custom designs to trying on different nail colors virtually, these apps offer a range of features to help you achieve the perfect nails.
WANNA NAILS
WANNA NAILS is a nail design app that allows you to visualize different nail polish colors on your own nails. With this app, you can now determine which nail polish color to buy before you even leave the house. Simply take a photo of your hand and start trying on new nail polish colors. Then adjust the virtual nails to match your own.
The WANNA NAILS app offers pre-designed manicure options as well as everything you need to create your own nail design. This includes a range of nail polish colors, templates, stickers, and nail shapes.
With just a touch, you can create your own nail designs. The app also offers pre-designed patterns and stickers to choose from. Additionally, there is a section within the app that offers educational videos on how to perform manicures. These videos are interesting and informative, and can help you learn some of the finer points of creating a manicure.
This free app features a beautiful design and a range of functionality. This helps you to avoid mistakes and choose the perfect nail design. If you're hesitant to try a bold new look, try it out on this app first.
YouCam Nails
The YouCam Nails app is a virtual nail salon where you can choose the perfect nail polish color for yourself. Change the nail shape and add interesting stickers and patterns to create a unique nail design.
The app features a wide range of ready-made templates that you can choose from, and you can even create your own nail design and add it to the templates for later use.
If you can't decide on a bold design and a new shape, try changing the nails in a photo. This approach is perfect for any girl who loves something new and unusual.
To use the YouCam Nails app, simply take a photo of your hand or use a ready-made template and adjust the layout to your preferences.
Features of the YouCam Nails app:
More than 65 colors for creating a unique design
More than 25 different patterns
More than 50 stickers
Several nail shapes to choose from
Personalization of the nail design image
Video tutorials
Ease of use
Share created designs on social media
Choose from 20 ready-made templates for instant transformation
Instructions for using the nail design:
Take a photo of your hand with your nails or use a hand layout in the app.
Apply the nail polish.
Edit the nail shape, add stickers and patterns.
Choose a photo background and add photo effects.
Save the result.
You can share the image on social media.
Nail Salon: Manicure Girl Game
The Nail Salon: Manicure Girl Game app allows you to experiment with your nails. You can paint your nails in any color you like, which is useful to do before going to a nail salon. These practice sessions will save you time and help you try out different styles on yourself.
How to use this app? It's very simple. First, take a photo of your hand. Open the camera in the Nail Salon: Manicure Girl Game app, then place your hand in the special frame. The app will recognize your hand and your unique features, which will help you apply the manicure more accurately.
Next, choose the skin color you want. This will be necessary if the Nail Salon: Manicure Girl Game app doesn't recognize your skin color correctly. If you want to change the shape, you can do so after taking the photo. Choose any of the five available shapes, and then choose your favorite nail polish color.
You can paint all your nails at once or each one separately. Now you can decorate your nails with different patterns and stickers available in the Nail Salon: Manicure Girl Game app. You can even add a message or drawing.
You can edit and beautify the final photo by selecting your favorite background and photo effects. You can also share the final result with your friends by adding your account to the Nail Salon: Manicure Girl Game app from any social network. This is a completely free app with a lot of features.
OPI NAIL STUDIO
With the OPI NAIL STUDIO app, you can paint your nails in any available color. Here you will find a variety of patterns and interesting designs.
Use stickers to create a unique design. You can use pre-made templates stored in the app gallery. All layers can be applied with a single touch. For example, you can apply the color, and then add patterns. Experiment with style and design. Now you don't have to risk trying something that you may not like.
Here you will find more than 100 nail polish colors and shades. This will help you create a unique design and base for your manicure. Choose from over 30 sets of different patterns and stickers. Want to apply a flower or animal image to your nail? Do it with a couple of touches.
You can also choose one of 5 nail shapes. The finished design can be saved in templates or favorites. In the future, they can be reused. Interesting video tutorials will help you with your manicure. Here you will learn how and with what tools to make a neat manicure.
Which colors and shades are currently in fashion. Which stickers and patterns can be used and how to apply them to your nails. You will learn about this and much more by watching special video tutorials in the app.
NailMatch: Nail Polish Matching for Any Color
Choosing the right color for a new manicure can be a challenging task for many women. However, the NailMatch: Nail Polish Matching for Any Color app can help you experiment with different shades and find the perfect match. Simply take a photo of your hand or foot and try on various nail polish colors.
Experiment with different color combinations and shades, depending on the lighting, skin tone, and style you prefer. The app's computer vision algorithms provide natural-looking colors and shades, and the NailMatch app accurately applies the chosen color to your nails using augmented reality technology.
All you need to do is put your hand in front of the app's camera and try on different nail polish colors. With millions of shades, textures, embellishments, combinations, and styles, you can unleash your inner artist and create a unique manicure. This way, you don't have to waste money on a nail polish shade you're not sure about.
Thanks to the app's AR capabilities, you can not only see how the nail polish looks on your nails but also how it reacts to lighting after drying.
The NailMatch: Nail Polish Matching for Any Color app is designed to be simple and intuitive to use, and you can easily share your unique results with friends on social media. You can share your creations on any social network or messaging app using your social media account.
Natural Nail Polish
Nowadays, many women love to experiment with new nail designs and colors, but sometimes it can be difficult to find the perfect shade. Fortunately, the Natural Nail Polish app is here to help. With this app, you can try on the latest and most fashionable nail polish colors of the season on a virtual canvas of your own nails.
The Natural Nail Polish app is easy to use. Simply take a photo of your hand or foot, and the app will automatically detect your nails. You can then choose any nail polish color from a wide selection of hues.
Once you have chosen a color, the app will apply it to your nails. You can use the cursor to smoothly transition from one color to another, add a gradient, or even create a unique design that no one else will have. You can experiment and try different colors and designs without the fear of making a mistake.
If you are not satisfied with the end result, you can easily change the design or start over. The app also includes a color assistant that helps you choose colors that complement your skin tone. This ensures that your manicure will look beautiful and harmonious.
Using the Natural Nail Polish app saves you time and money. You no longer have to struggle with finding the perfect shade or worry about wasting the nail technician's time. With this app, you can create your perfect manicure and know exactly what it will look like before you go to the salon. Try the app today and have fun experimenting with new nail colors and designs!
Lacquergram
This app may not be as well-known as some of the others on the list, but it has a much better interface. It has only recently been released, so it is still growing in popularity in its category. However, you can find a wide variety of information on nail polish here, as well as try out different nail colors on your fingertips.
You can also create wishlists of nail polishes and add your favorite colors to your favorites. Additionally, you can share your opinions on various nail polish brands with other users, including absolutely any brands you need. Find out from others which brands are the best and which ones to avoid if you don't want to waste your money.
Furthermore, the app actually allows you to find any nail color you want. If you want something for Christmas, simply type in "Christmas color" in the search bar and the app will show you all the colors related to this holiday. You can even input the craziest names – there's likely something that will come up.
Here are just a few brands that you can find in the app: OPI, Essie, China Glaze, Zoya, Orly, CND, Alessandro. This is just a small part of the entire list, and you can find them in the app.
Nail Art – Color by Number, Nail Polish Coloring
The Nail Art – Color by Number, Nail Polish Coloring app uses the latest technology to allow you to "try on" new nail polish colors. Augmented reality is very popular, and that's exactly what this program utilizes.
The Nail Art – Color by Number, Nail Polish Coloring app reads the image of your hand from your phone's camera, and applies the selected nail polish color to your nails so you can experiment with different designs. To get started, simply place your hand in the special frame provided in the app.
You can also see which shades are currently in fashion and which brands are most frequently used by others. Many nail polish brands offer their products in this app.
You can choose a color here and now. If you like it, you can order or purchase the polish from any specialized store. Thanks to the capabilities of this app, you can see what the selected nail polish will look like once it has dried.
You can turn the finished result into a photo and save it to the gallery of your mobile device. Additionally, you can send this image to your friends through social networks or messengers. This free app boasts a beautiful design and a variety of features, making it easy for you to save time and try out different nail polish colors without the risk. Be ready for change and don't be afraid to experiment.
Nail Salon: Nail Designs Nail Spa Games for Girls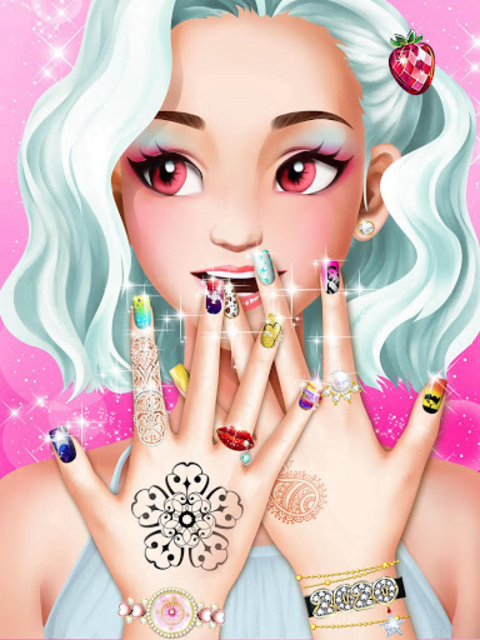 Let's take a break from the real world and explore some fun nail games where you can experiment with different nail polish colors and designs just for the sake of enjoyment!
One such game is an aesthetically pleasing nail polish game where you become a beauty salon master and create the most amazing manicures for your clients!
There are no strict rules in this game, so you can unleash your creativity as much as you want. Try out different colors, mix nail polishes, draw beautiful lines, shapes, and even images. And it's not necessary to apply the same color on all your fingers! You can paint each new nail with a different color – who said you can't do that?
You can also add glitter to your nails to make them look matte. After the manicure, you can decorate your hand with rings and bracelets of all colors and shapes. All the accessories look stunning, and even adult girls will love playing this game.
The atmosphere creates a feeling of a real beauty salon – you have nail polishes, nail stickers, and so on. Once you finish, you can even save photos of your masterpiece and share them on social media.