The pixie bob haircut is one of the most beautiful and versatile options you can get, thanks to the combination of these two styles. It has a fashionable asymmetrical look that can be adapted to any face shape. Adding some texture to the ends gives it a more contemporary feel. The tousled back at the crown accentuates the cute, curved profile.
Due to its simplicity, it won't require much time or effort for styling and maintenance. Being a versatile hairstyle, the pixie bob allows you to frequently change your styling, from a stylish side-swept fringe to a trendy and modern undercut.
It's perfect for girls with a round face shape.
Check out our photo collection of fashionable and current pixie bob hairstyles below.
Choosing a pixie bob hairstyle depending on face type
When choosing a pixie bob hairstyle, it's important to consider your face shape in order to find a style that flatters your features and enhances your natural beauty.
Round face: If you have a round face, look for a pixie bob that has volume on top and is tapered at the sides.
Square face: For a square face, choose a pixie bob that has soft, rounded edges and layers that frame your face.
Heart-shaped face: If you have a heart-shaped face, consider a pixie bob with side-swept bangs or longer layers around the face.
Oval face: Lucky you! An oval face shape can pull off almost any pixie bob hairstyle. Consider a sleek, short cut for a sophisticated look, or go for a more tousled, textured style for a more relaxed vibe.
Long face: If you have a long face, look for a pixie bob that has volume on top and is slightly longer at the sides.
Silver pixie bob with parting
A silver pixie bob with a parting is a modern and edgy short haircut that features silver or gray hair with a defined parting. The hair is typically cut short at the nape of the neck and gradually gets longer towards the crown, creating a tapered effect that can be subtle or more dramatic. The hair is styled with a deep side parting, which helps to create a structured and polished look. This style is versatile and can be worn tousled and messy or sleek and sophisticated, making it a great choice for anyone looking for a low-maintenance yet fashionable haircut.
Long pixie bob with a side bang
While having oily and light hair is good, the current color trend leans towards a more ash-toned hue. Elevate your long, versatile pixie with a trendy style by opting for a matte light hair color that subtly showcases your dark roots.
Beautiful pixie bob with a long bang
This particular pixie haircut generates impressive volume around the top, giving you a chic and eye-catching appearance. Paired with an extra-long bang, it adds a cool-girl vibe to the overall look. Consider adding highly contrasting or subtly low-contrast highlights to elevate the style and draw attention in the best possible way.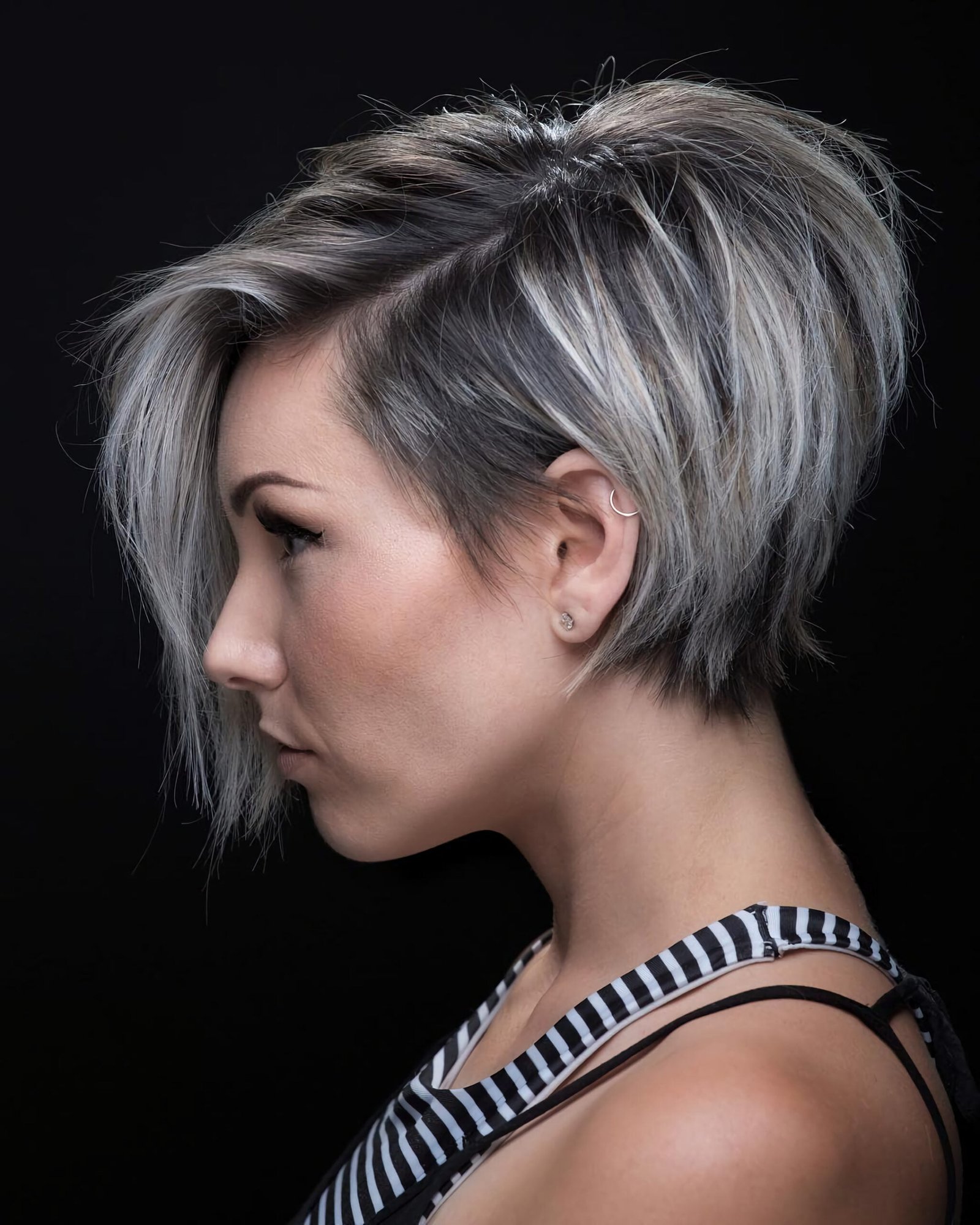 Pixie bob with balayage coloring
Layering upon layering creates an impression of enhanced texture, combining longer sections with shorter strands seamlessly to achieve a feminine yet bold style with a short length. Pixie cuts like these are ideal for girls seeking a convenient haircut that is simultaneously chic and trendy.
Long layered pixie haircut
The long, layered pixie haircut serves as an ideal intermediate stage if you're considering growing out your hair. The presence of longer hair in the front opens up a range of color options to play with and experiment.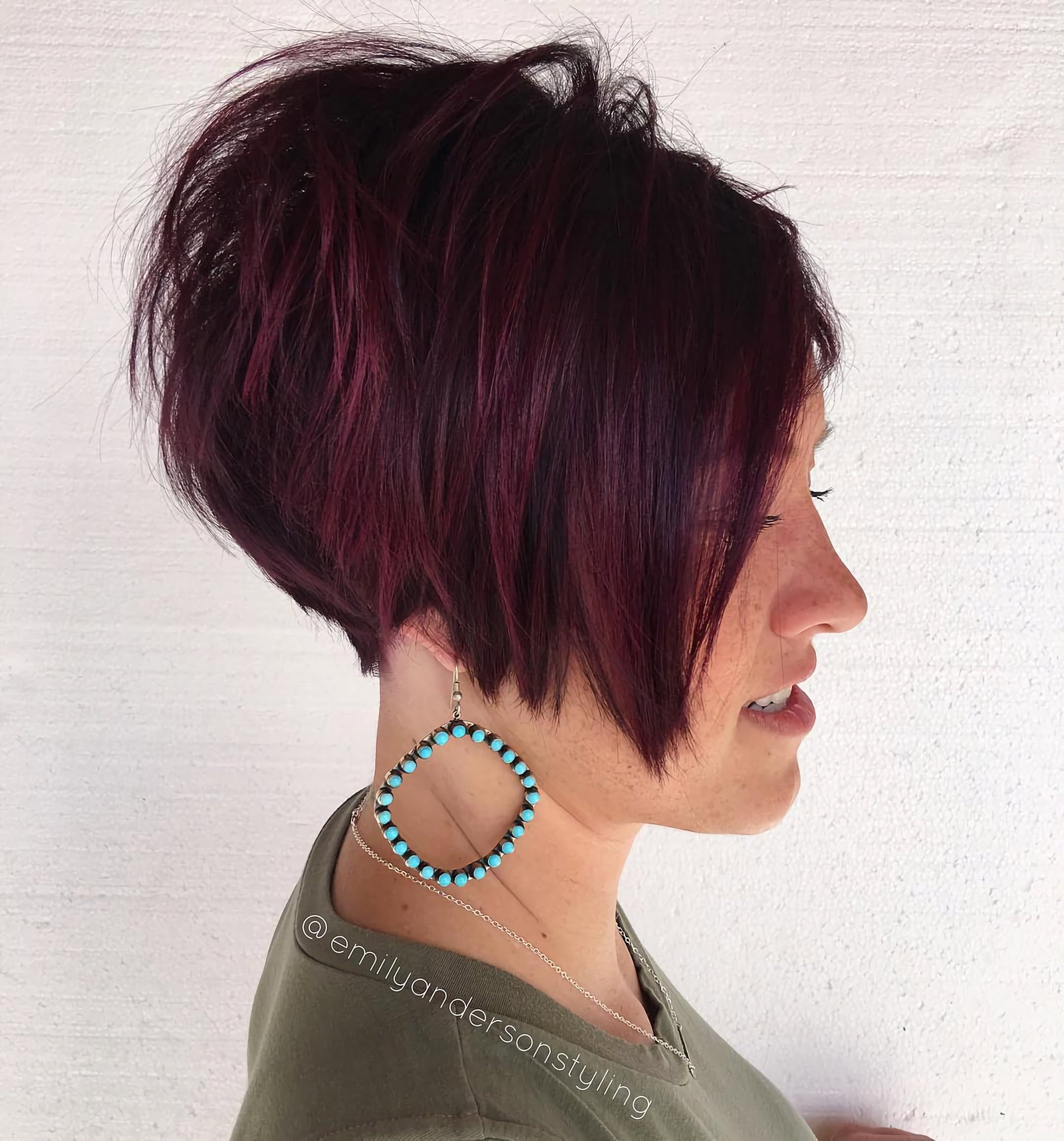 Tousled pixie bob
This asymmetrical style captures the essence of both worlds, combining playful textured layers with a prominent bang. To enhance this haircut, you can explore hair coloring options like an ash-toned hue or a striking blonde shade.
Shaved long pixie haircut
We admire the striking contrast that can be achieved between the shaved sections and the hair on the crown. Managing the length on top can be a styling challenge, but with this approach, you can cleverly disguise the thick sides, giving the appearance of a bob. Regardless, it creates a remarkably charming style.
Graduated pixie bob haircut
This is another way of styling pixie bob hairstyles, where the hair is primarily cut into a short graduated bob that seamlessly transitions into a pixie on one side. It allows you to enjoy the best of both styles, and as a bonus, it looks stunning.
Stylized pixie
Are you in search of a sophisticated way to sport a longer pixie? This style is precisely designed to fulfill that goal, offering you a luxurious hairstyle that is ideal for both everyday wear and special events. If you have thick hair, you might consider opting for a shorter variation of this pixie. Enhance its elegance with a stunning and deeply swept side fringe.
Classic pixie with side bangs
This particular hairstyle is commonly regarded as a classic pixie cut, and there's a solid reason behind it! This variation of the hairstyle is effortlessly easy to maintain and retains all the desirable qualities of a pixie. To create it, your stylist will skillfully trim this pixie with a side fringe. Then, by shifting the front locks to the side, they'll instantly deliver a cool and timeless style.
Half long, half shaved
Finding it difficult to decide between a short and long pixie haircut? Embrace the best of both worlds by incorporating elements of both styles. Shave one section of your hair while leaving the other side soft and long. Allow the longer portion to gracefully reach the cheekbones. The result is a feminine appearance that exudes a sense of freshness and playfulness.
Soft layers for fine pixie bob hair
For a trendy look, give this pixie haircut a try. Soft layers create volume for finer hair types. Sweep the bangs across the forehead and keep the hair at cheek level in front of the ear. We love this light hair color, but you can experiment with any shade as all hues complement thin hair in a pixie style.
Long rounded pixie bob
Hair can be long in a pixie haircut, but it shouldn't be sharp. This soft, long pixie features a rounded gradient that gives it such a beautiful shape. To achieve this style, comb all the hair back and secure it with styling cream and hair spray. Ask your stylist to style your long pixie in a way that showcases your lovely face.
French braided pixie
Whoever said that braids are reserved for long hair? In reality, all you need is a few centimeters to create a French braid, and this platinum pixie exemplifies just that. To achieve this style, your hair requires good hold. Grab some hairspray and hair gel.
Colorful contrast pixie bob
Want to make your Pixie hairstyle stand out? Look at this playful and colorful contrast. By highlighting only a portion of your hair in a funky style, you keep the overall look polished while still maintaining a playful edge. We love this vibrant purple shade on dark hair, but pastel tones will work just as well.
Classic pixie for thick hair
Thick hair can be a great match for a Pixie haircut as well. It's often difficult to envision having long and thick hair, but this haircut demonstrates that it's entirely achievable. The key to achieving this Pixie style is to elongate the length of the bangs. To maintain control over this look, layer the bangs with a variety of techniques.
Tonal shaving pixie bob
How incredible is this haircut? The blend of tonal hues is such an inspiring way to wear a short Pixie. What really makes this style look exceptionally cool is the incorporation of various shades within a single color. The use of highlights truly accentuates it. The hair should maintain maximum length at the crown, while the roots showcase a darker shade.
Fashionable pixie bob haircut options